Dr. Morter BEST PROCESS Alka Line
How supplements are prepared is almost as important as the raw ingredients used. Most supplements are laboratory-made, undergoing high heat and harsh chemicals during processing, which destroy most of the enzymatic qualities and change the protein structure. Not Alka-Line. Dr. Morter's supplements are not heat treated, so the enzymatically active ingredients remain alive for maximum effectiveness. Since there are more live enzymes in Alka-Line products, you can take smaller amounts and obtain the same results as taking larger amounts of other brands. Dr. Morter's BEST PROCESS Alka Line products are whole food supplements.
ALKA GREEN: A Natural Body Alkalizer
This 100% barley juice Alka Green concentrate is the basic Alka-Line product. Recommended as the best overall body alkalizer, it is grown under organic conditions, contains no chemical fertilizers, insecticides, or pesticides. It's not diluted, so it provides the maximum concentration of the naturally chelated colloidal alkaline minerals, vitamins, and amino acids so vital to health. Cold processed and contains no added sugar which makes this product great for any condition like Candida, cancer, arthritis, cardiovascular disease, irritable bowel syndrome, fatigue, and constipation. Alka Green is 100% Satisfaction Guaranteed. The green barley plant has become one of the major nutritional tools of modern health practitioners. It is rich in active live enzymes, minerals, naturally chelated potassium and calcium, vitamins, amino acids, superoxide dismultase, plant lipids, chlorophyll and auxins. This nutrient dense and highly digestible "natural pharmacy" is an excellent source of various raw materials needed to maintain and strengthen the entire body. Ingredients: Each 500mg. tablet contains organically grown unheated, unadulterated, dehydrated, live enzyme rich, young, green barley plants. Preservative free. Contains no maltodextrose, yeast, sugar, starch, dairy, wheat, corn, or any chemicals.


ALKA SLIM: Weight Reducing, Health and Energy Enhancing Formula
A revolution in weight reduction and dietary supplementation, Alka Slim is the only weight reducing health enchancing product specifically designed to alkalize and energize at the same time! A low-protein GMO free plant powder easily mixed with fresh or bottled fruit or vegetable juice. Ingredients: Barley malt, soy protein complex, fiber complex (psyllium, guar, apple pectin) alkalizing complex, (bee pollen, barley grass, alfalfa juice concentrate, spinach, parsley, celery, spirulina), barley grass juice, natural fruit and vanilla flavors, lecithin, pineapple enzyme (bromelain), methionine, RNA-DNA complex, schizandra, eleuthero root, foti, bioflavanoid-hesperidin complex, beta sitosterol plant lipid complex, gamma oryzanol, (brown rice extract octacosonal. Plus, each serving (2 scoops) contains: vitamin A, vitamin C, thiamine (B1), riboflavin (B2), nacinamide, calcium, vitamin E, vitamin B6, folic acid, vitamin B12, Iodine (Kelp) magnesium, zinc, iron, biotin, pantothenic acid, paba, inositol choline bitartrate, manganese, molybdenum, chromium, and selenium.
ADRENERGY: The Natural Stress and Energy Balancer
This advanced formula provides the natural nutrients for adrenal gland function and is ideal for helping to "jump start" or "boost" the system during times of fatigue. It employs a natural synergistic affinity between vitamins B and C, Zinc, Manganese, Schizandra, Chinese Licorice and Adrenal Extract. Ingredients: adrenal concentrate 80mg., vitamin C 150 mg., pantothenic acid 60 mg., zinc 5 mg., manganese 1mg., schizandra (6-1) 20, chinese licorice (10-1) 12 and niacinamide 80 mg.
ALKADOPHILUS: The Non-Refrigerated Multi-Strain Acidophilus
Provides several kinds of beneficial bacteria for the colon. Particularly beneficial for those who have been on antibiotics or those drinking chlorinated water. This product contains 1.5 billion organisms per capsule. Unlike most other acidophilus products, Alkadophilus has a shelf-life of one year without refrigeration. Ingredients: lactobacilli acidophilus, rhamnosus, bifidus, bulgaricus, caucasicus and yoghurti in a beet fiber and rice powder base. Contains no milk, sugar, wheat, or yeast.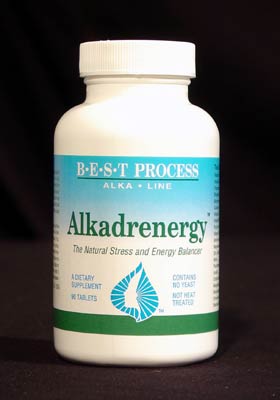 ALKADRENERGY: The All Plant Stress and Energy Balancer
This specially designed product is not an artificial stimulant. Its uniquely balanced formula represents the state-of-the-art in nutritional understanding. Alkadrenergy alkalizes the body and provides raw materials necessary for adrenal support, stress reduction, and enhanced energy. This product is perfect for those on a vegetarian diet. Ingredients: Vitamin A, Vitamin C, Thiamine, Riboflavin, Niacinamide, Calcium, Vitamin E, Vitamin B6, Folic Acid, Vitamin B12, Iodine (Kelp), Magnesium, Zinc, Biotin, Pantothenic acid, Inositol, Choline Bitartrate, Manganese, Molybdenum, Chromium, and Selenium. In a proprietarily formulated bio-base synergistically supportive ingredients including Soy Protein, Paba, Lecithin, RNA-DNA Complex, DMAE, Schizandra, acanthopanax, Codonopsis, Foti, Alfalfa Juice Concentrate, Bioflavanoid-Hesperidin Complex, Mineral Aspartate, Mineral Citrate Complex, Beta Sitosterol Complex, Benzoic Acid, Quercetin, Nicotinic Acid, Gamma Oryzanol, Trans Ferulic Acid, Octacosonal, Inosine, and Sodium Phosphate. Alkadrenergy is yeast free and vegetarian, and it contains no salt, milk, wheat, corn, starch, artificial preservatives or colorings.

ALKA CLEANSE: Colon Cleansing and Normalizing Supplement
The colon should naturally contain bulk for the stimulation of peristalsis. Alka Cleanse contains Psyllium and herbs for stimulation to clean out old toxic residues. This product can also be used as an excellent, mild, nonchemical natural laxative. A colon cleansing and normalizing supplement. To support optimal colon functioning Alka Cleanse contains the highest quality psyllium, which for most people is the most gentle, yet effective, stress-free colon cleanser known. Alka Cleanse also provides lactobacilli that are of key importance for colon health, plus chlorophyll and enzyme rich alfalfa and barley grass. This formula contains herbs to optimize colon function. Ingredients: psyllium, lactobacilli complex, alkadolphilus bifidus and rhamnosus (1/4 billion lactobacilli organisms per 6 caps), herbal complex: barley grass, alfalfa, pau d'arco, aloe vera, cascara extract, black walnut extract, cloves, bayberry, fenugreek, watercress, and rosemary; bile salts, and pancreas concentrate. Contains no yeast, salt, sugar, starch, dairy, wheat, corn, or any chemicals.
ALKA PAN: A Complete Digestive Enzyme Formula
This supplement is designed to reduce stress in the body and aid digestion. The body's pancreatic enzymes are designed as a "clean-up" system and Alka Pan is used to supplement the functioning of an exhausted system. Best taken with protein meals. Ingredients: pancreas, ox bile, papaya enzyme, duodenum, liver, betaine, bromelain, B1 (thiamine), B2 (riboflavin), niacinamide, anise, peppermint, chamomile. Whole dried pancreas is a source of pancreatin, trypsin, amylase, lipase, lisotozyme, diatase and chymosin.

SUPERDIGEST: A Pure Plant Digestive Enzyme Formula
A digestive enzyme derived from plants, this product works to replace enzymes destroyed by cooking. SuperDigest contains 7 plant digestive enzymes, including Lactase, which helps in the digestion of milk and dairy products, Amylase, Protease, Lipase, Cellulase, Papain, and Bromelain. These enzymes aid in the stomach's digestive process and help to acidify an acid-deficient stomach. This formula represents the ultimate in enzyme science! Ingredients: amylase 2000 NAU, protease 6500 NPU, lipase 1200 NLU, cellulase 20 NCU, lactose 684 FCCU, papaya enzyme (papain) 50 mg., pineapple enzyme (bromelain) 50 mg., alfalfa powder 50 mg. In a base containing calcium and betaine hydrochloride.

ALKA CAL: A Calcium Supplement To Increase Bone Density
The most bone-ready calcium source known, Alka Cal is produced by a unique process that preserves the original microcrystalline matrix of living bone in the form of Calcium Hydroxyappatite. Alka Cal also contains Calcium Citrate - an excellent form of calcium. Ingredients: 500 mg. of elemental calcium (250 mg. from calcium hydroxy appatite, 250 mg. from calcium citrate)

SUPER V: A Vegetarian Super Multi-Vitamin
Contains vitamins and minerals designed to provide essential nutrients for a more healthy, balanced diet. In a base of Macrocystis Pyrifera (Sea Vegetable), Ginkgo Biloba, Milk Thistle, Goldenseal, Dandelion, Burdock Root, Alfalfa, and Horsetail. Ingredients: Provitamin A from beta carotene 15,000 iu., vitamin C 500 mg., thiamine B1 20 mg., riboflavin B2 20 mg., niacinamide 75mg., vitamin D 200 iu., Vitamin E 100 iu., vitamin B6 20 mg., folic acid 400mcg., vitamin B12 100 mcg., biotin 300 mcg., pantothenic acid 50mg., inositol 50mg., Minerals: calcium, iron, phosphorus, iodine, magnesium, zinc, copper, chromium, manganese, molybdenum, Other ingredients: choline, paba, bioflavonoids complex, sodium phosphate, methionine, betaine HCl, bromelain, rna/dna (chlorella), chlorella. In a 500mg. base of macrocystis pyrifera (sea vegetables), ginkgo biloba, milk thistle, goldenseal, dandelion, burdock root, alfalfa and horsetail. Contains no yeast, salt, sugar, milk, wheat, corn, starch, artifical preservatives, coloring or animal products.

COLLOIDAL TRACE MINERALS: Plant Based Easily Absorbed
Over 70 trace minerals in concentrated colloidal suspension proving all the essential minerals from an organic plant source to aid in tissue healing of the entire body. Does not require refrigeration.
Trace Mineral Energy products are the enhanced form of energy created by photosynthesis. They are used to maintain the energy balance that is accomplished with the BEST (Bio Energetic Synchronization Technique) procedure. Trace Minerals Energy nourish the physical body and enhances the energy body. It was developed especially for those who have excessive stress or want more energy. It works to build a better immune system for improved overall body function. Helps to neutralize the damage of negative thoughts and stress to the entire body.

TRACE MINERAL ENERGY 14: Homeopathic
An enhanced form of energy created by photosynthesis, these products are used to maintain the energy balance that is accomplished with the Bio Energetic Synchronization Technique procedure. Available in energy level formula #14.

TRACE MINERAL ENERGY 15: Homeopathic
An enhanced form of energy created by photosynthesis, these products are used to maintain the energy balance that is accomplished with the Bio Energetic Synchronization Technique procedure. Available in energy level formula #15.

TRACE MINERAL ENERGY 16: Homeopathic
An enhanced form of energy created by photosynthesis, these procuts are used to maintain the energy balance that is accomplished with the Bio Energetic Synchronization Technique procedure. Available in energy level formula #16.
TESTIMONIALS
"Alka Green has made a big improvement in my life. I was tired all the time, brain fog, could not sleep, sinus congestion and lots of allergies. Now I'm a new person with a new outlook on life. I didn't think I could feel this good again. My energy came back, I have my mental clarity again, I'm not blowing my nose all day, my skin and nails have improved, and my food allergies all cleared up. I highly recommend Alka Green to everyone who wants a new start on life."
Betty
"I was always tired in the morning's everyday and my joints were achy and stiff all the time. I've tried all kinds of products before and nothing worked. After I started to take Alka Green everyday it was easier for me to get out of bed and my whole body in general was feeling better including my joints. Thank you so much Dr. Haberski for recommending this wonderful product to me."
William



WANT TO KNOW MORE?
The more you know how your food choices affect your health and vitality, the better your life and that of your family will be. If you are serious about wanting to eat your way to better health, contact Dr. Larry K. Haberski, Board Certified Internist, your Dr. Morter Health System doctor for more information or call (404)-294-5050. It's never too late to get started now!